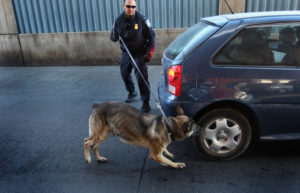 Is the use of a K-9 unit, after the conclusion of a traffic stop and without reasonable suspicion of criminal activity, a violation of the Fourth Amendment prohibition on unreasonable search and seizures?
In Rodriguez v. U.S. Court held that the use of a K-9 unit after the completion of an otherwise lawful traffic stop exceeded the time reasonably required to handle the matter and therefore violated the Fourth Amendment's prohibition against unreasonable searches and seizures. Because the mission of the stop determines its allowable duration, the authority for the stop ends when the mission has been accomplished. The Court held that a seizure unrelated to the reason for the stop is lawful only so long as it does not measurably extend the stop's duration. Although the use of a K-9 unit may cause only a small extension of the stop, it is not fairly characterized as connected to the mission of an ordinary traffic stop and is therefore unlawful.
Usually the mission of most traffic stops can be as simple as a speeding ticket or the dreaded license plate light not working. One would think that once the officer wrote that ticket the stop was over. However, if there is another reason to extend the stop, before the ink dries on the ticket, you may see mans best friend sniffing around your car.
Some things that usually cause the stop to be extended:
Someone is consuming alcohol or narcotics
Someone is trying to hide something while the officer is investigating
Someone's story is changing, inconsistent
Someone has a warrant for their arrest
You give the officer consent to search your car, you can refuse consent for officers to search
Disclaimer: The information in this blog post ("post") is provided for general informational purposes only, and may not reflect the current law in your jurisdiction. No information contained in this post should be construed as legal advice from Perches Law PLLC.,. or the individual author, nor is it intended to be a substitute for legal counsel on any subject matter. No reader of this post should act or refrain from acting on the basis of any information included in, or accessible through, this Post without seeking the appropriate legal or other professional advice on the particular facts and circumstances at issue from a lawyer licensed in the recipient's state, country or other appropriate licensing jurisdiction.